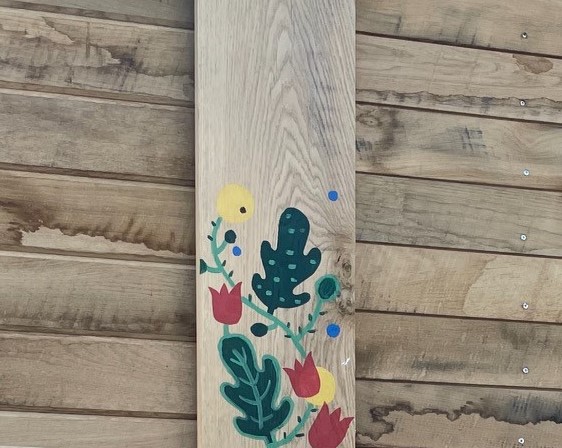 Maria S: en klimatneutral LFM30 hybrid-byggnad
Climate-neutral construction means reducing carbon dioxide emissions throughout the construction process, from material production and transport to energy consumption during construction. All carbon dioxide emitted during the construction process and later in the operational phase is offset by various measures. Our focus is on offsetting as close to construction as possible: biochar in the soil contributes to a good growing soil, green roofs and investing in a green yard with a diversity of plants. Contracts with local biochar producers to complement the construction-related measures result in a climate-neutral building.
In order to get this far, we had to make various optimisation steps in the planning and choose building materials we had not worked with before. Steel structures have the biggest impact on the climate, so in a first step we compared wood and concrete structures. In the end, we landed on a hybrid solution where we use the materials according to their strengths: concrete is used for the main load-bearing structure while lightweight wood construction completes the house: exterior walls, penthouses and stairwells are built in wood. In a next step, we optimised this hybrid structure so that concrete is used only where it is needed.
Cement has a large environmental impact. That's why conventional concrete is bad from a environmental perspective. In order to still be able to build with concrete, we used Swerock's eco-concrete step 3. This concrete contains slag from the steel industry that replaces part of the cement. This results in a 40% reduction in CO2 emissions. Working with locally produced factory concrete, which is cast on site by the construction company Mircon, also has the advantage of short transport routes. The Ecoconcrete Stage 3 has never been used for a similar project before, so it is exciting to follow up and see how the concrete performs against the standard. In particular, the bearing ratio and drying time are of interest and are monitored continuously during the construction process.
In addition to this special concrete, we use various alternatives to standard materials to achieve a lower carbon footprint:
Wood windows instead of wood-aluminium windows.
Cellulose insulation instead of glass/stone wool
Climate-optimised reinforcing bars
Wooden joists instead of steel joists
PUR-insulation instead of XPS
With all these measures, we meet the requirements for climate-neutral construction according to LFM30. However, at Siegel we go one step further. We believe that tenants themselves have the greatest potential to positively influence the future and therefore we want to promote a sustainable lifestyle. Mobility takes up a large part of our daily lives and this is where we believe Mariastugan can make a further difference. We offer tenants different ways to travel and reinforce sustainable mobility.
But do we really need to travel around as much as we do today? With a lush green garden and natural pool, we create a resort-like outdoor environment at home in Höllviken. Time for a holiday at home!
In addition to being climate neutral, we focus on social spaces, mobility and the green spaces that have distinguished Siegel in previous projects. Sustainable living should be easy and fun!
More about LFM30: Ecobetong ska bidra till klimatpositiva hus – LFM30
Mer om projektet: Hyresrätter, Höllviken – Siegel